Atomicorp Product Documentation
Atomic Protector (AP)
Atomic Protector(tm) (formally known as Atomic Secured Linux) is an easy to use out-of-the-box Unified Security Suite add-on for Linux(tm) systems designed to protect your servers against both known and unknown zero day threats. Unlike other security solutions, AP is designed for beginners and experts alike. You just install AP and it does the work for you.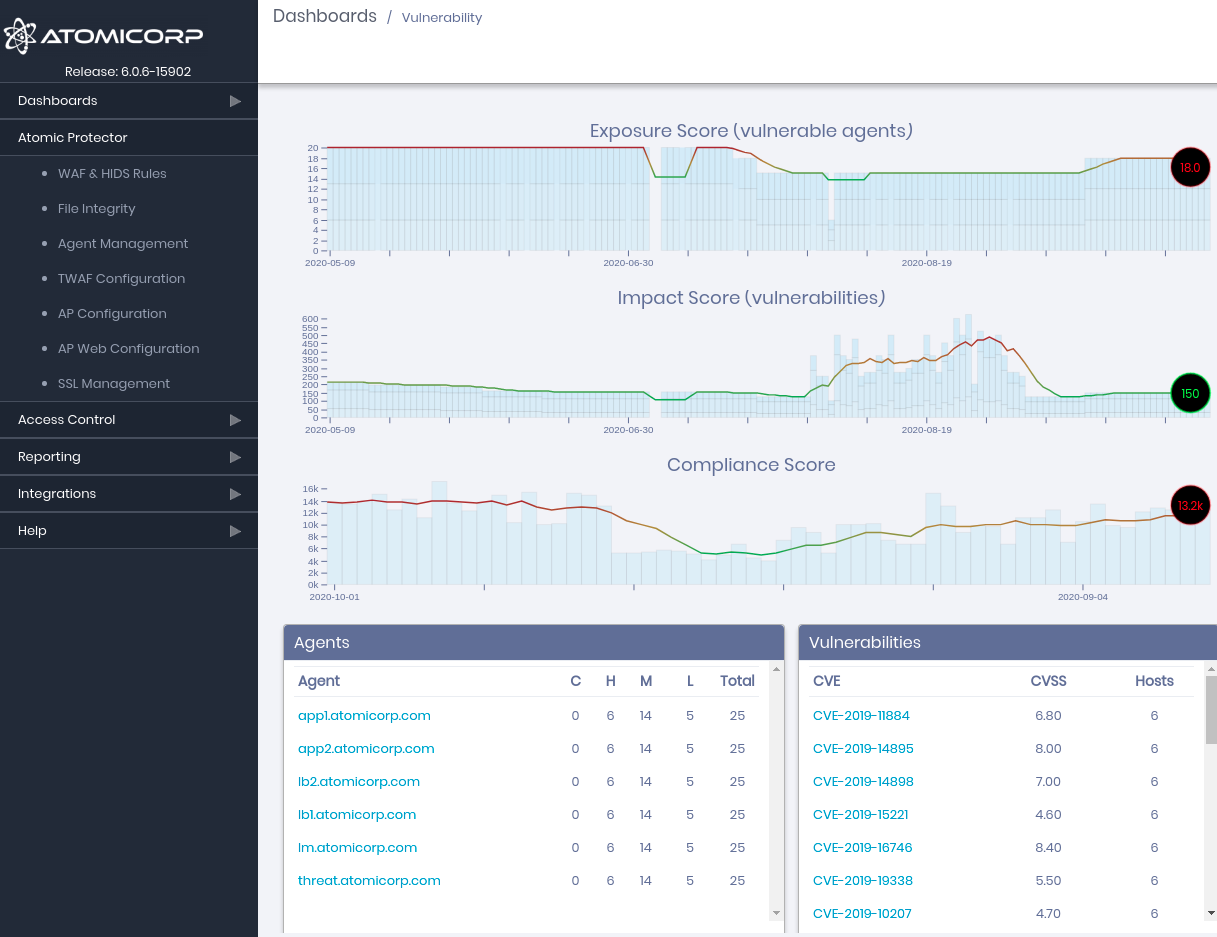 Below is a brief description of the different components of AP and what they do:
Atomic Enterprise OSSEC (AEO)
Atomic Enterprise OSSEC is a Host-based Intrusion Detection System (HIDS) used for security detection, visibility, and compliance monitoring. It's based on a multi-platform agent that forwards system data (e.g log messages, file hashes, and detected anomalies) to a central manager, where it is further analyzed and processed, resulting in security alerts. Agents convey event data to the central manager for analysis via a secure and authenticated channel.
Additionally, AEO HIDS provides a centralized syslog server and an agentless configuration monitoring system that provide security insight into the events and changes on agentless devices such as firewalls, switches, routers, access points, network appliances, etc.
Atomic Web Application Firewall (WAF)
The Atomic WAF has two non-exclusive modes of operation:
Embedded Mode: Works with Apache 2.x, Atomic Protector will install a special module in Apache to give it native WAF protection capabilities. This installation will occur when Atomic Protector is installed.

Proxy Mode (Transparent WAF): Allows Atomic Protector to protect any HTTP and/or HTTPS service, either a local server (such as when using a web server that does not support embedded mode) or a remove server.
You can read more about Atomic Protector on the Product Page.
---
Need A License?
If you have yet to purchase your license of Atomic Protector, please visit this page .
---
Need An Additional License?
To add more licenses simply log into the Atomic License Manager account. You can also reset your AP License Manager password.
---
Still need help?
If you still have questions please see one of the resources below:

Frequently Asked Questions (FAQ) - We literally have every potential question documented here.

Take a look at our troubleshooting guide.

Contact Atomicorp Support - Our support staff would be happy to assist you with any issue you may have!
---